DocuNECT manages the complete lifecycle of a document from capture through to retention and easily integrates with third-party document management systems. The lifecycle can be mapped to capture the documents, extract/review data from documents, present issues in a workflow and then release to your document management system.
This model can be applied to many different business scenarios, such as loan verification, accounts payable, human resource on-boarding and many more.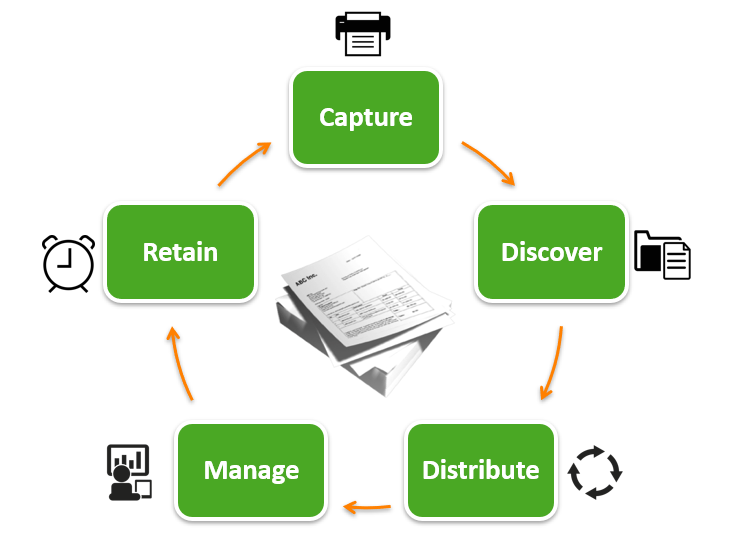 Templates and Enhanced Business Rules
Use business rules to classify documents into different categories, such invoice vendors or loan document types
Define document type specific business rules to automatically extract index values, or redact Personally Identifiable Information (PII)
Assign contextual rules. For example, if you receive an invoice from a vendor that is significantly greater than the historical average then flag it for review by an operator
Document Classification and Indexing Verification
Web-based review module to review automatic classification
Re-organize pages and documents within the module
Web-based indexing/verification visually indicates where business rules fell below the defined confidence threshold and requires review
Machine-Learning
Calculates business rule effectiveness by analyzing user intervention
Analyzes user intervention to recommend adjustments to business rules
Use document type history to adjust business rules
Process Management
Use business rules to review or approve data elements extracted from documents
Utilize user or role based work queues
Dashboard for monitoring progress
See a DocuNECT Lifecycle Application in Action
The following video shows an example of an Accounts Payable lifecycle application.